In August 2018, the Spring Lake Elementary School in Woodland opened its doors to welcome students for the first time. A newcomer to the Woodland Joint Unified School District, Spring Lake is located on the East side of the city, and offers Transitional Kindergarten through 3rd grade. The school's mission is "to empower and engage all students through innovative learning, authentic challenges, creative solutions and joyful practices." One of those joyful practices starts happening before the students even get to the school's entrance. Kids in Spring Lake are bike riding to school with their parents and other students.
Keri Johnson has two boys, Ian and Jase, who attend Spring Lake. Ian is in the 3rd grade, and Jase is in 2nd grade. They ride their bikes to school everyday unless it's raining. It provides them an opportunity to socialize with friends and get some fresh air and exercise. "The boys really enjoy riding their bikes to school, as it gives them independence and a way to get some energy out before school starts," Keri shared. "We have two friends that come to our house in the morning to ride as well."
Julie Miesfeld's children have been biking to Spring Lake Elementary since the school opened last year and have converted their school commute into a Bike Pool (as opposed to a Car Pool). "We are big biking advocates! We usually pick up one or two neighbor girls on the way. It works well because we aren't limited by available spaces in a car. I think there were maybe five days last year that we didn't bike, mainly due to heavy rain. Even in a mild rain the kids do well. They bring a towel and dry off their bike seats before biking home at the end of the day."
Julie and other Spring Lake parents emphasized that bike riding to school gives their kids a chance to be outdoors on a daily basis, which is so important considering a large portion of the kids' days are spent inside the classroom. Many of the parents also emphasized the importance of social interaction with other children, parents, and community members that happens on the way to and from school, that would not happen if those same kids were sitting in a car. Plus, some parents appreciate the chance to get in their own exercise, whether that is walking, running, or cycling alongside the kids.
"We have great conversations on our rides to and from school, and I love hearing the kids chat with friends we meet along the way about what occurred during the school day," Julie shared. "Biking is not only a healthy lifestyle choice, but it's cheaper and great for our environment as well. I often run alongside my biking crew, and last year I even brought our dog along in the mornings. What's more efficient than taking my kids to school while getting a workout in and walking my dog at the same time?"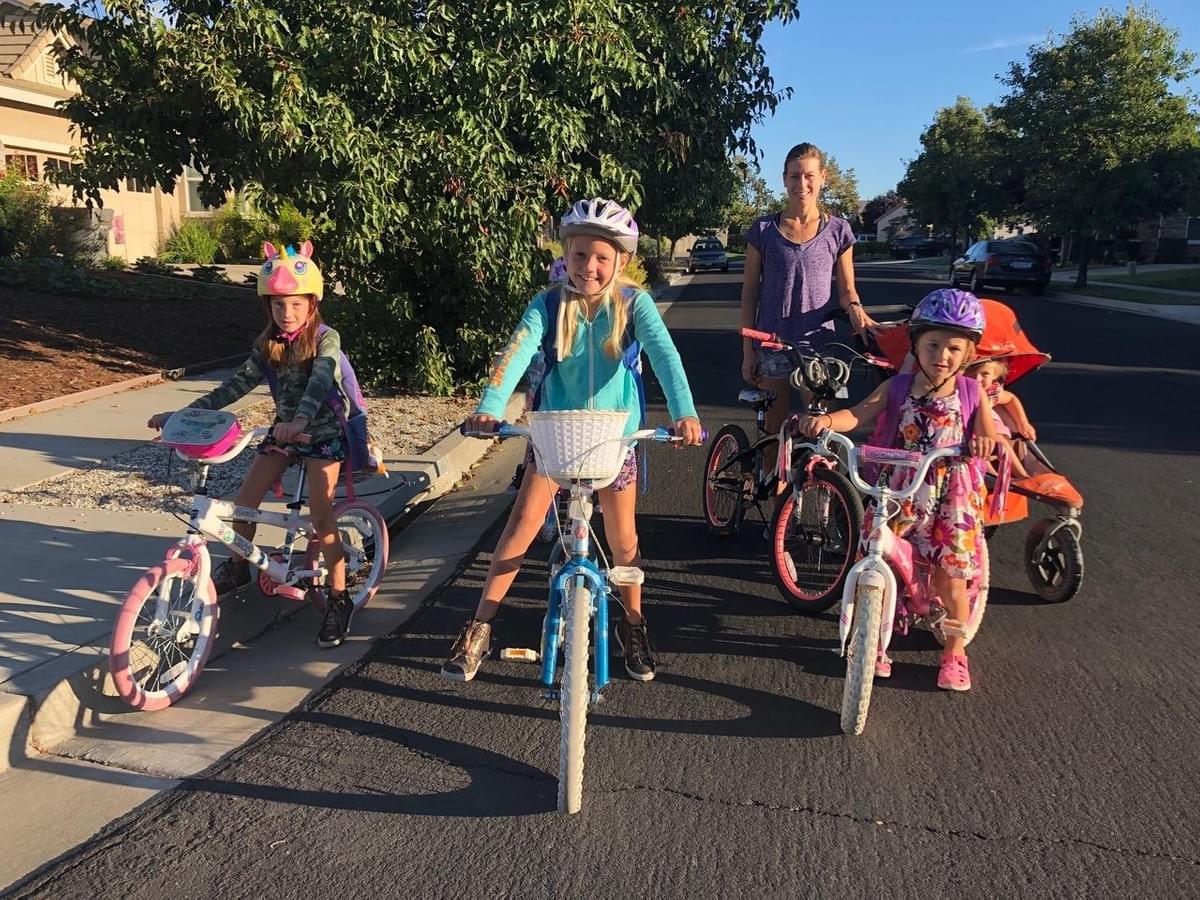 Biking to Spring Lake Elementary is sometimes easier on parents with young children than taking the time to strap all of them into car seats, and waiting in the car line that forms for drop off and pick up at the school's entranceway. Indeed, cycling helps keep car congestion down in the area surrounding the school on busy mornings and afternoons.
"I have four kids ages eight and under, and logistically it is much easier and quicker for me to throw the younger ones in a bike trailer or stroller than it is to strap all four into their car seats, wait in a line of traffic, and fight for a parking space, only to get all four out of the car again once we arrive at school. On bikes, we bike right into the gate at school, and the crossing guards safely and swiftly stop traffic to get us across the street. My 4-year old daughter has been riding a two wheeler without training wheels for nearly a year now, which I attribute to all those days of practice biking to pick up her older sisters from school," Julie commented. Sounds like a win-win for everyone involved!
Katie Neverkovec has a daughter in first grade at Spring Lake Elementary. They started riding bikes to school last year when she started Kindergarten. They had a tag-a-long bike and everyone knew them because they were the only ones to use that style bike. This year, Katie has seen at least two other families with tag-a-longs. But her daughter Carlee has now graduated to using her own bicycle and is excited to use it as much as possible.
"This summer, my daughter Carlee learned to ride her own bike and is just as excited about riding to school as she was last year. If there is ever a day when we can't ride bikes to school, both of our days seem to drag on. Riding our bikes to school gives us a burst of fresh morning air and some time to get the 'sillies' out before heading into class and work," Katie shared.
Indeed, her daughter likes to ride bikes to school so much that Katie has been able to use it as leverage for good behavior. She will sometimes say to Carlee, "Biking is a privilege, so let's make sure we are ready for school in time so we can ride."
Katie, like other parents in Spring Lake, relishes the chance to be outdoors and get some activity as part of her daughter's daily commute to school. "Riding back to the house after the bell rings (or sometimes I can drop her off and leave before the bell) literally takes five minutes or less. It gives me another burst of movement and energy before I start my day and head to work in Davis by 9 AM." Over the last school year, Katie and Carlee have met the same people and dogs every morning along the route. They get to visit with friends on their way to school and love that it gives them a chance to get to know their neighborhood on a more intimate basis. "It's also an incredible way to beat any sort of traffic on the way to school. I hate battling for the parking line during school drop off."
What does the Spring Lake Bike Brigade provide? A built-in form of fresh air and exercise, an environmentally conscious way to decrease traffic congestion, and a chance to engage in social interaction with friends and neighbors. Sounds like these Spring Lake kids and their parents are onto something. Kind of makes you want to jump on your bike and join them, doesn't it? Well, if you are in Spring Lake, you can!
This article is written by Lisa Montanaro, commissioned by The Bike Campaign. For more information about how to "Drive Less. Ride More.," contact Maria Contreras Tebbutt at funmaria@sbcglobal.net or www.TheBikeCampaign.com